Counseling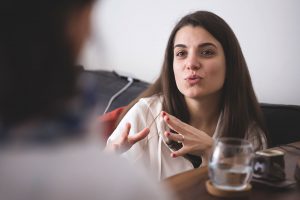 Do you feel like you can't think straight? Are you stressed and think that you have nowhere to turn?
You are not alone. You don't have to face life-changing decisions by yourself.
At the Pregnancy Help Center, we have licensed professional counselors that will help you through this time in your life. Our counselors are available to listen, and everything is confidential. Your counselor will show you the steps involved in weighing the pros and cons of your choices. Your situation is unique and so are you. Your counselor will help you find your own answers and will respect your decision.
Make an appointment if you would like to meet with one of our counselors to:
talk to someone you can trust.
have someone who will listen.
get information about your options without feeling pressured.
know the facts and resources available.
have support through the decision-making process and afterwards.
feel confident that you are making the right decision for a happy, fulfilling life.
It isn't the end of the world, although it may seem so right now. Some might think that asking for help is a sign of weakness, but quite the opposite is true. You are being strong by taking action.
Things to keep in mind:
You have your whole life ahead of you.
If you make a decision when you are in a state of panic, you may later regret it.
The counselor can show you self-help techniques.
You can take charge of your life and move it in a positive direction.
Life isn't a game, but it can be fun.
Weighing your decisions carefully empowers you.
Whatever your situation, you don't have to face it alone.   It's normal to feel overwhelmed sometimes. Learn how to cope with the pressures of life; and be assured, there is always hope.